December 1, 2010
Garrison Filmmaker's Divine Sparks Screens at Jacob Burns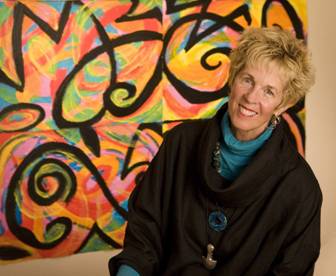 Filmmaker & Artist Imogene Drummond of Garrison
Garrison filmmaker and artist Imogene Drummond's Divine Sparks 30 minute multi-media film, "a 21st century myth of creativity for the child in us all," will be screened at the Jacob Burns Film Center Media Arts Lab in Pleasantville on Tuesday, Dec. 7 at 7 pm. Westchester Media Network is hosting this special event, which also features The Dress, a 30 minute narrative film by filmmaker Jessica Hester, at 8 pm.
Celebrating the transformative power of creativity, Divine Sparks offers the excitement of creativity as an alternative to violence. Five diverse voices from a "family of the world" playfully intertwine as one. Members of the Limón Dance Company stretch and sway like paper cut-out pieces, eyeball puppets cavort, whales sing, and Native American dancers in full regalia celebrate.
The video was filmed in the West Indies, New York and New Mexico, the Galapagos Islands, North Africa and Australia. After the screening, there will be a Q&A where the audience can discuss the film with Writer/Director/ Producer Imogene Drummond.
The screening is free and open to the public. Children and families are welcome. The Jacob Burns Media Arts Lab is located at 405 Manville Road (at Grant Street) in Pleasantville. Free parking is available near the Metro-North train station. Please note the event is at the Burns Media Arts Lab across the street from the Metro-North parking, and diagonally across from the Burns Film Center. For more information, call Director/Producer Imogene Drummond at 845-424-359.