October 8, 2008
Divine Sparks Film Focus Group at the Desmond-Fish Library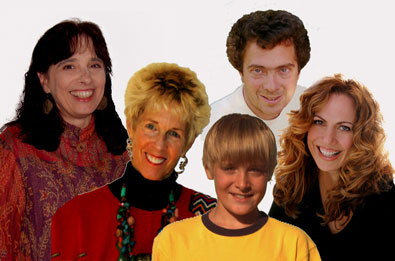 Some of the local Divine Sparks film team are, from left to right: Eileen Charbonneau,
Imogene Drummond, Austin Semple, David Rothenberg, and Joan Forlow.
Divine Sparks, Artist and Writer Imogene Drummond's enchanting art video for the child in us all, will be presented at a focus group screening at the Desmond Fish Library in Garrison on Sunday, October 19, 2008 at 2 pm. This exciting multimedia project whimsically reveals a world of imagination where life unfolds surprisingly and delightfully. It is a luminous dream fantasy about life's possibilities for growth and transformation. A jump for joy piece, Divine Sparks celebrates the transformational quality of creativity.
The work of several stellar Hudson Valley artists is featured in the film, including the incandescent music of Cold Spring musician/composer David Rothenberg, and the incomparable dramaturgical guidance of Divine Sparks Board of Advisor screenwriter/ novelist Eileen Charbonneau. Other notable Hudson Valley actors participated in workshopping and casting the film, including beloved Shakespearian actors and Garrison residents Kurt Rhoads and Nance Williamson, and scintillating Divine Sparks Board of Advisor actor Joan Forlow of Cold Spring. Kitama Seeger Jackson, a former Beaconite who grew up on his grandparents' Toshi and Pete Seeger's lush aerie, is the inspired Director of Photography. Cold Springer Austin Semple makes a special appearance in the film. The film features brilliant modern dancers from the world-renowned José Limón Company, as well as computer graphic animations, finger puppetry, and Native American dancers. The video was filmed in St Lucia, the West Indies; New York and New Mexico, plus other beautiful places on the planet such as the Galapagos Islands, North Africa and Australia.
After the focus group screening of the film in its "almost finished" state, the audience will have a chance to discuss their response to the film and talk with Director/Producer Imogene Drummond of Garrison, and others on the Divine Sparks team.
Divine Sparks is a fiscally sponsored project of IFP (Independent Feature Project), and is funded in large part by a grant from the Community Foundation of Dutchess County (CFDC). The Westchester Community College, Peekskill Extension Center also assisted by providing access to advanced technological equipment and expertise.
Participating in a focus group is a great opportunity to be part of a film project before its release. The screening is free and open to the public. This short, 30-minute film is appropriate for all ages. Children and families are welcome. For more information, call Director/Producer Imogene Drummond at 845-424-3599.