THE STAR
SAINT LUCIA, WEST INDIES
Wednesday March 22nd, 2006
Fertile Beauty Success at Balenbouche Estate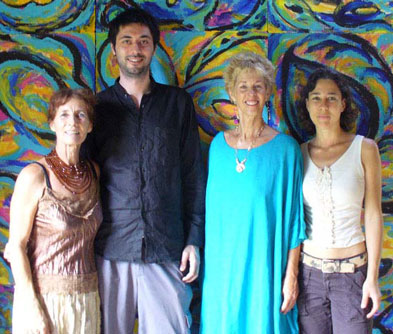 The artist Imogene Drummond, third from left,
with her Balenbouche hosts during last week's exhibition
Balenbouche Estate is continuing a tradition of providing international artists with a unique place to create while offering the community an opportunity to experience world-class art. During the past two months, New York-based artist and Balenbouche Artist-in-Residence, Imogene Drummond, created a new series of artwork entitled "Fertile Beauty." A one-person exhibit of her new paintings opened March 12 in the historic Copra House Gallery.
Ms Drummond's vibrant paintings were exceptionally well-received. "Water Borne," a dynamic wall-sized grid of 12 paintings (96x90"), looks like the surf from different angles and the sound of the surf—complete with petroglyph markings. "Jazz!," another powerful wall-sized grid of eight paintings (96x60"), reminds one of musical notes, the rhythms of St Lucia's sunlight and heat, as well as of tiny tendrils, gnarled roots and large ropey branches rampantly curling and twisting everywhere. Several bold green and red paintings, "Fertile Beauty," "Whirled" and "Seminal Light," are reminiscent of the rain forest and the red flashes from the wings of the elusive St Lucian Parrot.
Dr Duncan Smart and Lady Glenconner were two of the noted visitors to the event. The artist hopes the "Fertile Beauty" paintings will find their permanent place in the hotels, business places and homes of St Lucia, where the artwork can be appreciated in its natural environment. For more information contact Anitanja Lawaetz, Balenbouche Estate, at 455-1244.