November 28, 2007
Feast of the Senses Exhibit by Imogene Drummond at The Artist's Palate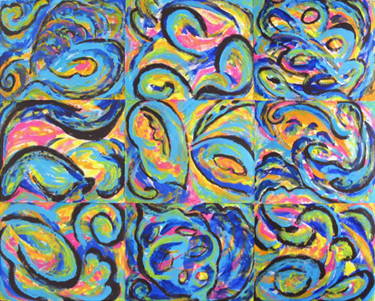 Water Borne,
painting by Imogene Drummond
Imogene Drummond's exuberant exhibit Feast of the Senses has opened at the architecturally and gastronomically exciting Artist's Palate, 307 Main St., Poughkeepsie. Imogene is a Garrison resident who exhibits internationally. Exhibitions resulting from painting expeditions to sacred sites around the world- including the Galapagos Islands, Uluru in Australia, Delphi in Greece, Anatolia in Turkey and Borobodur in Java- led to her selection as a member of the esteemed Society of Woman Geographers.
Recent accomplishments include one of her paintings being purchased by a prominent NY collector with Motherwell and Jackson Pollack paintings; 16 paintings featured in a film set in a castle in the Hudson Valley; and 3 in a musical also in the Hudson Valley. Her work is collected by international public, corporate and private collectors, including a luxury resort in St Lucia and an international corporation headquartered in Luxembourg. She is represented by the Wheelhorse Gallery in Greenwich, CT. Her website is: www.idrummond.com.
The Artist's Palate's raw interior textures and strong linear structure serve as a foil for Imogene's vibrant paintings that sing, dance and cavort. Her large pieces tiled in grids echo the interior's linear structure. Yet, like the squiggles of light curving over the serpentine bar, curves of resplendent life burst forth from her paintings. In Water Borne, sea and/or sky shapes shift, merge together, butt edges and mingle to create a symphonic jazz piece in three parts. In Song, enchanted sinuous shapes float above dawning pleasure like rising notes of joy. Fields of Light shimmer like sunshine on a summer meadow. Colors of spice and frost collide in Paradise, My Love to burst like a flower blooming at high speed. Down a hall indented with alcoves, one encounters Freedom, Waves and Bowl of Color, among others. Life jumps out of Drummond's dynamic paintings to feed the soul; while owner-chefs Megan and Charlie Fells' culinary artistry nourishes life itself.
And so it goes- fine art feeds the senses, and fine food feeds the body and soul- not linearly, but in multiple dimensions at the same time.
The exhibit will run through January 15, 2008. The public is invited to a reception to meet the artist on Sunday, December 2 from 1-3 pm. Gourmet appetizers will be served. The Artist's Palate, 307 Main Street in Poughkeepsie, is open Monday to Thursday, 11am to 9pm.; Friday, 11 am to 10 pm; and Saturday, 5 to 10 pm. For more information, call Megan Fells at (845) 483-8074.