August 1, 2012
Drummond & Huber at ArtFull Living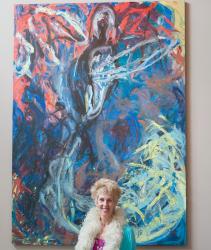 Artists Imogene Drummond and Thomas Huber will give presentations and a talk about their art on Sunday, August 5, at 1:30 pm at the ArtFull Living Designer Show House at Glassbury Court, 3370 Albany Post Road (Rt 9) in Cold Spring.
Imogene Drummond's talk is entitled "Terra Incognita," and Thomas Huber's is "Found Notes, Recycled Pictures." This fun, informal and informative event is part of the ArtFull Living Designer Show House Conversations with Artists series. The cost is $20 per person and includes a tour of the ArtFull Living Designer Show House.
In her presentation, multimedia artist Imogene Drummond, of Garrison, will talk about some of her painting expeditions to beautiful and sacred places around the world and her response in paint. Imogene will share images from her travels and the influence of nature's muse on her work.
In his presentation, mixed-media artist Thomas Huber, of Cold Spring, will talk about the shattered pictorial plane in contemporary, abstract art and the rejection of Renaissance perspective and how his work pursues these ideas. Thomas will contextualize his work with that of such painters as Cy Twombly, Sigmar Polke and Jean Michel Basquiat.
Conversations with Artists is organized by Barbara Galazzo, Director of ArtFull Living. Galazzo will be giving the Tuesday designer lecture lunch, August 7th, to discuss what it is like working with designers and will have special guest speaker Designer/Curator Lithgow Osborn. Mr. Osborn will be speaking on the subject of Creating A Collection of Art.
Creating a collection seems daunting to most people, but in fact if you look around your home and really begin to look & analyze your belongings, you'll see that you already have a "collection." You may not look at it that way, but every time you purchase any non-essential, decorative object you are building your collection. The trick to creating a Collection is focus and quality.
Reservations are required as seating is limited. To make a reservation, or for more information, call 845-265- 3618 or 845-265-9600.