March 2, 2011
Garrison Filmmaker's 'Divine Sparks' at Downing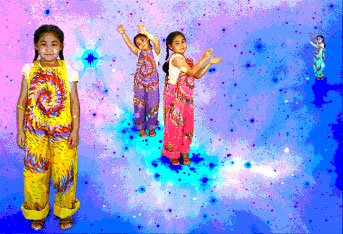 The Downing Film Center and Railroad Playhouse will host a special combination Divine Sparks preview film screening and art exhibit on Sunday, March 6th at 1 pm in Newburgh. Garrison filmmaker and artist Imogene Drummond's Divine Sparks 30 minute multi-media film, a "21st century myth of creativity" for children of all ages, celebrates the transformative power of creativity. The event includes Divine Sparks film screening and Q & A with the filmmaker, followed by a reception and art exhibit. This unique film-and-art event allows viewers to experience art in diverse media, including digitally in the film and "live" on the gallery walls.
This luminous film celebrates a wide array of art, animation and accents. Original art, dance, music, painting, poetry and puppetry playfully intertwine. Whimsically exploring a kinetic collage style, Divine Sparks engages viewers' hope and joy. Diverse ethnicities, subtle cultural references and natural forms speak to Divine Sparks' universality.
Imogene Drummondwrote, directed, produced, and created the paintings and paper-cuts in Divine Sparks. Many Mid-Hudson Valley community members and organizations participated in the making of this film. Some area artists include David Rothenberg, Kurt Rhoads, Eileen Charbonneau, Cabot Parsons and Joan Forlow. Some organizations that assisted with the film's development include the Desmond-Fish Library, Westchester Community College Peekskill Extension Center, the Field Library and Renaissance Kids. A grant from the Community Foundation of Dutchess County provided significant start-up funding. Fiscal Sponsorship was awarded by Independent Feature Project.
This unique fun family event is appropriate for children of all ages. The screening is at 1 pm on Sunday, March 6th. Tickets are $20. All proceeds will benefit the Downing Film Center and the Railroad Playhouse. For reservations, call the Downing at 845-561-3686 or visit www.rrplayhouse.org. The Downing Film Center is located at 19 Front Street in Newburgh. The Railroad Playhouse is located within walking distance at 27 South Water Street in Newburgh.
For more information, please call the Downing at 845-561-3686.