September 12, 2007
Biaggi and Drummond Discuss Transformative Ideas at Merritt Bookstore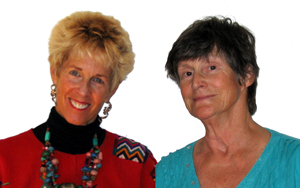 Authors and artists Cristina Biaggi and Imogene Drummond will give a reading from the book The Rule of Mars: Readings on the Origins, History and Impact of Patriarchy at Merritt Bookstore in Cold Spring on Thursday, October 4, at 7 pm. The reading will be followed by a discussion and a wine and cheese reception. The reading is free and the public is invited to attend.
The Rule of Mars, an anthology of 32 essays is the brainchild of editor and scholar Dr Cristina Biaggi. Pulitzer Prizewinning Jared Diamond enthusiastically endorses this anthology, which provides a thought-provoking compass for examining how and why we have become a violence-prone society.
The Rule of Mars examines the core issues facing us today: Will we choose to continue to escalate violence, or to transform ourselves in order to survive and thrive? This book posits the question: Will we decide to evolve into a culture in which all parties survive and thrive in mutually-beneficial relationships? It is also a book of hope. New thinking may help us all to shift to new patterns of growth and transformation.
Besides her roles as artist and archeology scholar, Dr Biaggi co-founded the Liguria Study Center for the Arts and Humanities. In 2004, at an Archeomythology Conference at the Center, Dr Biaggi presented her paper on why the neolithic Kurgans became warlike. Intense discussion followed, and the idea for her book was born.
Garrison artist, filmmaker and author Imogene Drummond's concluding essay Options For The Future: Transforming Patriarchy Through A Process Of Cultural Metamorphosis focuses on envisioning the transformation of patriarchy and the various shapes that transformation can take. She also posits specific ways to shift from our current situation to a healthier culture.
Merritt Books (66 Main Street, Cold Spring) is pleased to host this event on Thursday, October 4, at 7 pm. For more information please call the store at 265-9100.