September 12, 2012
ArtFull Living Designer Show House: An Artist's Perspective
by Imogene Drummond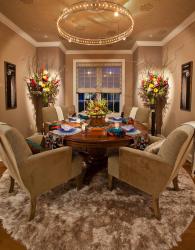 Last fall, international glass artist Barbara Galazzo was considering how to create more exposure for Hudson Valley artists. Following the momentum she'd created with the first, hugely successful, Cold Spring Arts Open Studio Tour, she hit upon an innovative way to benefit several diverse groups.
Her idea grew into the ArtFull Living Designer Show House—a unique collaboration between seven award-winning designers and 30 artists at Glassbury Court in Cold Spring.
Many of the artists, like me, were selected by more than one designer and exhibited more than one piece. I'm writing to share my experience as it relates to those designers and their different approaches, the rooms my paintings are in, and the other artists in those rooms.
Award-winning designer Bill Miller "sculpts space." He sees architectural structures and envisions how to make the spaces come alive and dance. I was impressed that Bill saw the structural shapes of the three rooms he'd been chosen to design—Living Room, Dining Room and Kitchen—as geometric forms unto themselves.
What I saw were the details: open flowing spaces, lovely white columns giving grace and style to the interior, and large light-filled windows. Seeing the rooms as straight-edged, six-sided shapes (including ceilings), Bill decided to activate the architectural squares and rectangles with curves and circles in counterpoint. For example, in the Dining Room, three concentric circles crown the room in invisible tiers: a chic circular contemporary chandelier hangs above a large luxurious circular table, atop an even larger silky round rug.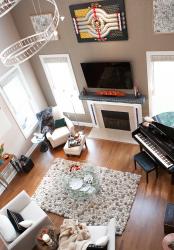 Bill accentuated the Living Room's soaring ceiling with a soaring spiral chandelier (also chic and contemporary). Carla Goldberg's piece de resistance, a 6-panel piece (8x6 feet) sets the aesthetic bar high: in another stratosphere. To me, her ethereal work is air and water. Constructed of resin,—clear like air, or frosted like ice on windowpanes,—her imagery flows from panel to panel like waterfalls. Her sense of playfulness is evoked in the bubble shapes containing cutout images of Lady Gaga's shoes, as homage to that iconic, often-champagne-blonde talent. The bubbles encompass a magical world much like snow domes of my youth. From Carla's elegant piece, serenity pervades the room.
The bluestone-colored mantle above the fireplace acts like a horizon line: water below, air and sky above. Below, Barbara Galazzo's aquamarine glass pieces— with undulating circles like air bubbles rising through water—frame the fireplace. Above, Angelo Marfisi's quicksilver showstopper piece simultaneously creates a resting place and winds up the square-versus-circle dance Bill has choreographed. Beside Angelo's piece float two poetic paintings by Barbara Smith Gioia. Her lyrical black lines sing on white fields with hints of blue—arias to clouds and zephyrs!
Turning to the adjacent wall, I see Carol Flaitz's intriguing paintings with textured organic sections in richly muted colors, and sense the four Elements at play in this room. Suggesting densely compressed matter, like layers deep within the earth, Carol's paintings represent earth. Air. Water. Earth. Bill hung her globe-shaped paintings angled upward toward my large (7x5 feet) oil painting. In it, a figure in a chrysalis appears threatened by a fiery pyre. Or, have the flames burned off the chrysalis to free the emergent figure? The light dawns,
my painting represents fire. Bill has ignited the classical elements of air, water, earth and fire to dance—from left to right—around the room. Clearly, he understands how point and counterpoint work in a deeply compelling way!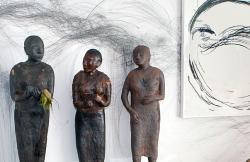 In the adjacent rooms—the Master Bedroom, Hallway and Master Bath—designer Chuck Burleigh conjures an altogether different aesthetic experience. First, the bedroom was painted all white until the room became a fresh white canvas—a literal white box. Then, Jaanika Peerna drew— with pencils—her flowing gestural marks directly on the white walls. Her curved lines impart the joy of Matisse's Dance. The white room covered in elongated black lines looked like a work of art to such an extent I worried that adding anything would detract from the room's artistry. However, I need not have worried.
Chuck had a vision. He hung Kaija Korpijaakko's luminous white-and-black multi-tiered cylindrical chandelier from the ceiling, added Jessica Wickham's outrageously handsome planks of black walnut for a headboard and bed frame, and placed three of Ada Pilar Cruz's mysterious clay figurines to stand silent as sentinels. Chuck himself made a twig lampstand. Each addition enhanced the room.
When I shared my experience of these rooms with Cabot Parsons, a friend, fellow artist, and regional arts developer, he immediately said, "Oh yes! For me, Chuck's rooms demonstrate what happens when the art is the environment.
His bedroom evokes the experience of moving down snow-capped mountaintops with Jaanika's black lines being the wind swirling in front of the snowy cliffs on a brilliantly sunlit day, Kaija's chandelier miming the mountain range's voluminous shapes, Jessica's wooden headboard and frame the dominant trees that live in such a place, and Ada's figures are like the Tibetan monks who survive—watchful and wise."
Cabot's description clicked. I knew just what he was talking about!
Cabot continued, "As you move down the mountain, you enter the edge of the forest." "And, that's what Chuck's installation of Julie Tooth's paintings is," I exclaimed. "Covering the walls from floor to ceiling with her patterned fractal paintings transforms the hallway into a passageway as you make your way along a path thick with trees, and Julie's paintings of elliptical shapes are the trees' shimmering leaves."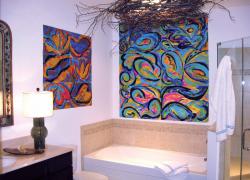 "Yes," Cabot continued, "You continue deep into the forest, then suddenly enter an opening and plunge into a refreshing pool of steaming water that are your lush blue paintings in the spa-like bathroom! Because your two large paintings have been configured to practically fill up two adjacent walls, they create the aquatic environment in that room, so the whole room becomes a rejuvenating pool of water. And Kaija's lampshades that look like light on poured water, and Chuck's twig chandelier complete the setting." Well, I hadn't thought of Chuck's rooms that way before, but I'll never be able to think of them any other way now!
Cabot concluded, "It's an interesting question: What happens when art creates the environment instead of being used as decoration?"
For Cabot, the ArtFull Living Designer Show House demonstrates the astonishing dynamism that can result when art is integrated—or activated—as the environment. Previously, I'd simply thought the exciting collaboration between the designers and artists at Glassbury Court had ignited an explosion of creativity. Well, clearly, it had! Now I understand why.
The ArtFull Living Designer Show House at Glassbury Court is located at 3370 Albany Post Road/Route 9, #3 Yesterday Drive, Cold Spring. It has been extended through Oct 14, 2012. It is organized by Barbara Galazzo and sponsored by ArtFull Living, Cold Spring Arts, Garrison Art Center and Glassbury Court.
For more information, please call 914-815-3133 or 845-265-9600.